This will not be the real final cover.
Sufficiently Advanced Dragons
In talking to people, I decided that the idea I liked the most of the ones I'd proposed in my last update was the "Sufficiently Advanced Magic" one. So, I'm starting work on the book which I am tentatively titling "Sufficiently Advanced Dragons."
I'll be attempting to jumpstart a lot of it through Camp NaNoWriMo. You can follow the effort here:
http://campnanowrimo.org/campers/goal-entertainment/projects/sufficiently-advanced-dragons
That said, I've never been very successful at Camp NaNoWriMo, and I am not sure how much time I'll be able to focus on novel writing.
Rugrats property of Nickelodeon
Excuses
My day job has gotten a good deal busier, which is good, but limits the amount of energy that I have to direct towards my creative endeavors.
Additionally, my break hasn't been nearly as productive as I had originally planned on it being. Some things happened in the real world that mandated a lot of time and attention which, again, limited my ability to be productive in my creative endeavors. Sometimes trying to fulfill the obligations of a responsible adult is not fun.
Christian Fiction
I have still been thinking about the Christian Fiction stuff. I did start to come up with an idea, but then I ran into the same wall I keep running into. The stuff that I want to write about is the cool spiritual stuff, but humans don't really get to do a lot of the cool spiritual stuff in real life, and I don't feel like I'd be able to realistically have a divine (angel, God, Jesus) main character.
So, especially with a lot of things being based on "God conquers the spiritual troubles of the world," it's hard for me to tell a story where the protagonist is much more than an observer of other, more impressive, events and figures.
GenCon
My events have finally gone through the GenCon system and are now available on the GenCon website.
If you're going to GenCon and want to play in one of my games, feel free to sign up while there are still slots. I'd be excited to have you!
System: S.C.R.A.M! (My homebrew accelerated combat system)
Adventure Title: Conspiracy Overload
System: Cypher System
Adventure Title:
1 Alien Invasion, With a Side of Explosions
https://www.gencon.com/events/122510
I'm still working on planning the specifics for both adventures, but I've got the overarching adventure structure for both.
Heroism and Other Lies: Episode 104: Flashbacks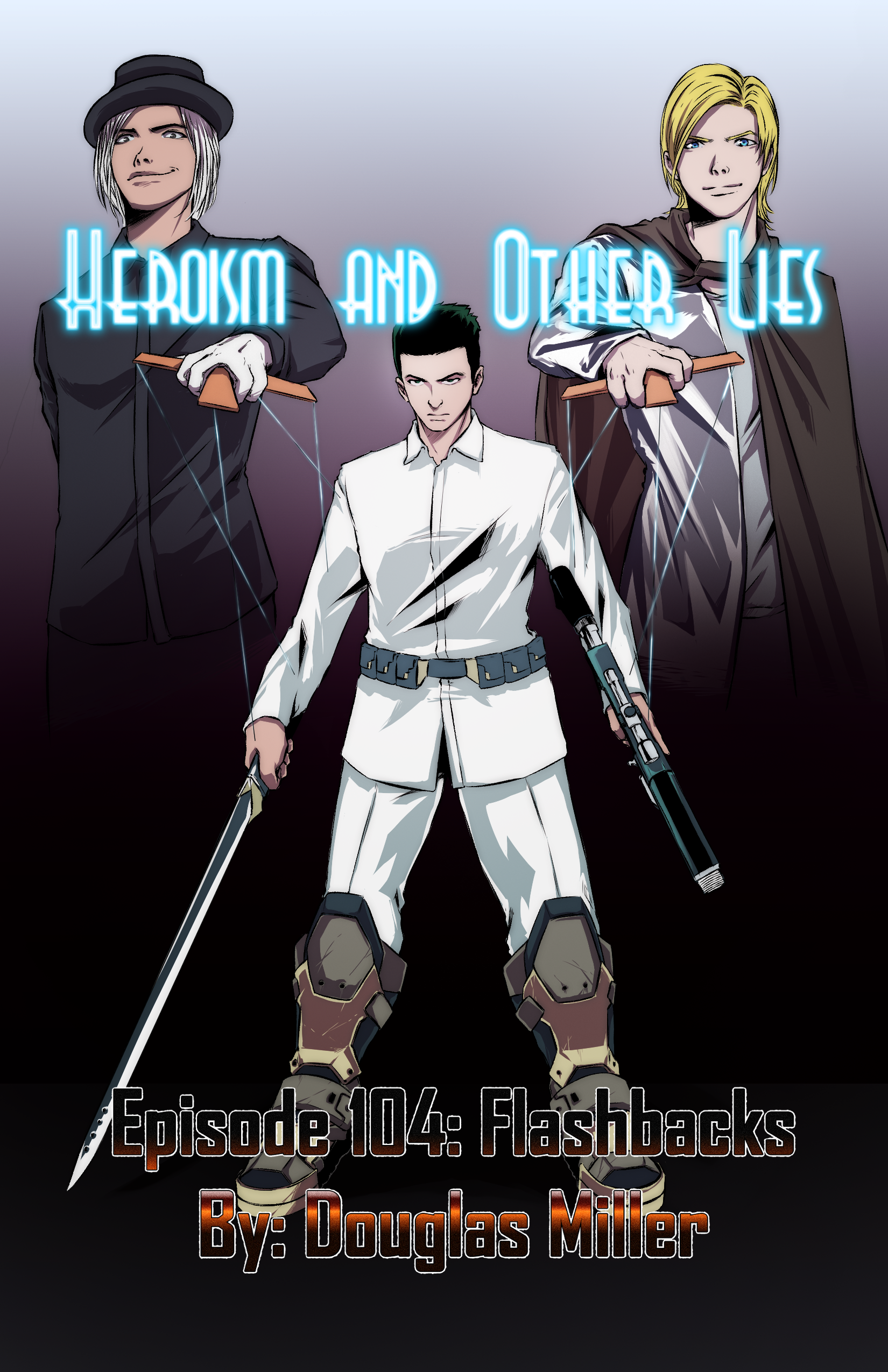 E-book:
https://www.smashwords.com/books/view/730426
Kindle:
https://www.amazon.com/dp/B071KLRRKZ
Paperback:
Joe and Persephone wake up in the past. Together, they must figure out if the future is set in stone, or if it can be changed. They must work together to prevent Joe's biggest mistakes, and the deaths that came from them, from becoming manifest.
A greater question still remains: can they stop Jez from turning into the superpowered madman he becomes?
Computer Boards
Several months back, I made a
post about board games
. It's still something I think about a lot. I admitted in my previous post that what I really want to find is a board game that's actually a tabletop RPG. There are a few advantages of the board game format.
If it's designed like most board games, then everyone can play, as players, on equal footing. (I understand that there are exceptions like Decent or Mysterium or other things). I like GMing a lot, but I also like playing games, and I don't have the time to really commit to a lot of campaigns or other real TRPG experiences.
They are generally more self-contained and playable from beginning to end in a reasonable amount of time (There are absolutely exceptions to this, which is why I con't get to play Runebound or some other games as much as I'd like to.)
They have a greater appeal to people who might shy away from tabletop RPGs. There is definitely a stigma against RPGs from non-RPGers, and I think a lot of it is just because they have this idea of what things are that doesn't really match with reality. So, people who might be unwilling to try even a short one shot of a simple RPG might be more willing if you put it on a board or series of cards and never called it an RPG.
So, I was thinking about this, and I came up with a really clever way of putting together this board game that's in my head.
It took getting to about the tenth deck of cards in my head before I realized that there might be a few too many decks of cards required to pull off what I wanted to do.
But!
A computer could handle it. A computer could have all the lists and random generators I wanted at the touch of a button. It could flawlessly run everything together if I gave it the information.
And it wouldn't even be very complicated to program.
Except...I don't really know how to program. I used to know some Java, and I could probably re-learn it, but as with anything, it takes time. And the content alone for the project is pretty large, making the idea of having to learn programming on top of it pretty daunting.
So...we'll see.
Toybox

Tonight is the first Toybox session that we've had in what feels like forever. I have really missed running this game, and I'm looking forward to getting back into it. That said, I was hoping to be a lot further ahead in planning by this point than I am, and I feel woefully unprepared.
As much as I'm looking forward to running Toybox, I definitely don't miss spending the time planning for it or the time typing up the session summaries.
I'm looking at some tools that should make the summaries easier, but I am not sure how they'll work, and easier still doesn't mean simple.